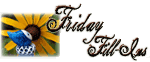 And here we go!
1. I love to
still keep this page going no matter how crazy I get at times
.
2.
Show me some lovin'
and a smile.
3. It's how you
try to piss me off that's killing my senses and run away instead of talking things out
.
4.
Leave if you must... and
don't tell me!
5. Well, would you
be upfront anyway if you have cheated even just for once?
.
6.
Here comes the
spring peepers.
7. And as for the weekend, tonight I'm looking forward to
watch the royal wedding review
, tomorrow my plans include
paying the net bill (hopefully)
and Sunday, I want to
just laze around with the kids
!