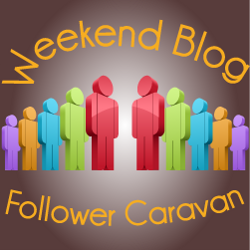 Have you ever seen this badge around? I bet you do! It's been up and now running on its 17th week. But I am just starting here obviously. As you can see my title tells it, lol!
So what is
Weekend Blog Follower Caravan
?
It is a blogger-helping-blogger weekly meme and as to your questions: How it work, who can participate and how to play, I suggest you go
here
to get the most appropriate answers possible.
Now going back to this week's tasks... they are the following:
1. Follow our sponsors The Pink Piggy and LIKE Weekend Blog Follower Caravan at Facebook (like button at the sidebar).
2. Make a welcome post for others to comment on.
3. Comment on the welcome post if you have followed. If you are already a follower, still leave a comment to know that you have visited.
Oh and by the way, here's more to perk us up. Join this week's WBFC and get a chance to win a little something from our dear host. Your entry automatically entitles you a raffle entry to the weekly draw while $20 Paypal cash will be given to one lucky participant at the end of the month.
See, it's a lucky start for me and it could be for you too but only if you will do something now and waste not the next minute of your time.