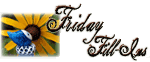 And.... here we go!
1. Up
all night
,
I've been
!
2.
I just heard some fuss outside... something must be
going around
3. Coats and scarves, mittens and boots:
Glad I don't need too bother getting any of them. Lucky to have lived in a snow-free land, LOL!
4.
After trying all night to beat deadlines, I think I somehow deserve
a nice back rub.
Unfortunately I have no one to do it for me
:(
5. I'm thinking about
getting some sleep after posting this
.
I really do need some so I can gather energy to do my workout later.
6.
Let there
be
sunshine
.
It's been raining around here all week... would be nice to feel some touch of sunlight.
7. And as for the weekend, tonight I'm looking forward to
placing more bids and perhaps do blog hopping too
, tomorrow my plans include
getting my nails done
and Sunday, I want to
just stay around and maybe light a candle for my papa later during the day
!